Markets lose steam as UK businesses call for larger lockdown support package – as it happened | Business
12 min read
09:34
Shakey start for stocks on Wall Street
08:13
Lloyd's of London, the world's biggest and oldest insurance market, has closed its underwriting room for the second time in its history.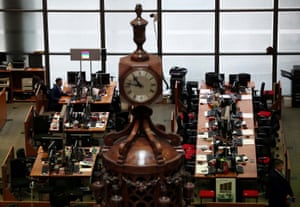 As of today, all insurance brokers, agents and underwriters will be working from home again, after England introduced a third national lockdown.
The whole Richard Rogers-designed building in the City has effectively closed, and Lloyd's said the underwriting room was unlikely to reopen before mid-February.
The insurance market shut its underwriting room for almost six months on 19 March, but kept it open one day a week during the second English lockdown in November.
Since then, hundreds of people had been doing business face-to-face on the underwriting floor most days, compared with thousands before the pandemic, which dwindled to even smaller numbers over the Christmas and New Year period.
07:05
Office landlords, beware. New lockdown measures in England and Scotland have pushed a return to the office even further into the future for UK workers.
But this will also have an impact on the rental value of London offices, according to new research from Morgan Stanley.
The US bank is currently forecasting a cumulative 8-10% fall in office rental values by March 2023.
It puts this slide down to the more enthusiastic adoption of working from home by UK office workers compared with their counterparts in continental Europe, and UK employers' willingness to allow more working from home in the future, all of which are negative for landlords.
Updated

06:43
Pubs and breweries in England are giving a rather lukewarm reaction to Chancellor's Rishi Sunak's offer of one-off grants to help English pubs get through lockdown 3.0.
Pubs will be eligible for grants of between £4,000- £9,000 depending on their rateable value, which comparable to the rent that premises could charge on the open market.
Chris Jowsey, CEO of Admiral Taverns, said the 1,000 publicans who lease their pubs from him, most of whom are only eligible for the lowest grant, needed £3,000 a month of support just to stay afloat.
The new one-off grants, together with those already available, mean the majority will be getting around £2,300. "It's welcome but it's just not enough," he said.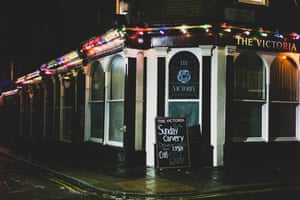 The British Beer & Pubs Association hailed a £277m "lifeline" for English pubs that it said would keep them afloat until the spring, preventing a flood of potential closures.
But it warned that the industry's long-term survival would require a cut to beer duty and continued business rates relief.
Some pubs lost out on tens of thousands of pounds of sales due to Christmas lockdowns and Christian Mole, head of UK hospitality and leisure at accountancy EY, wonders why this has not been recognised.



It is surprising that there does not appear to be some differentiation in grant levels between those businesses in areas which were able to open through to Christmas and those which were not.
Meanwhile, SIBA – the trade body that represents the UK's army of craft brewers, is fuming that pubs won't be allowed to offer alcohol with takeaways, cutting off a major route to market. Chief executive James Calder said:



Sales through takeaway, click and collect and drive through have enabled many to just about survive up to now.

This reversal in policy directly discriminates against small businesses while allowing supermarkets to continue to sell beer from global breweries.
05:25
BCC: Government must set out support for whole of 2021