How my former gambling addiction gave me my business idea –
8 min read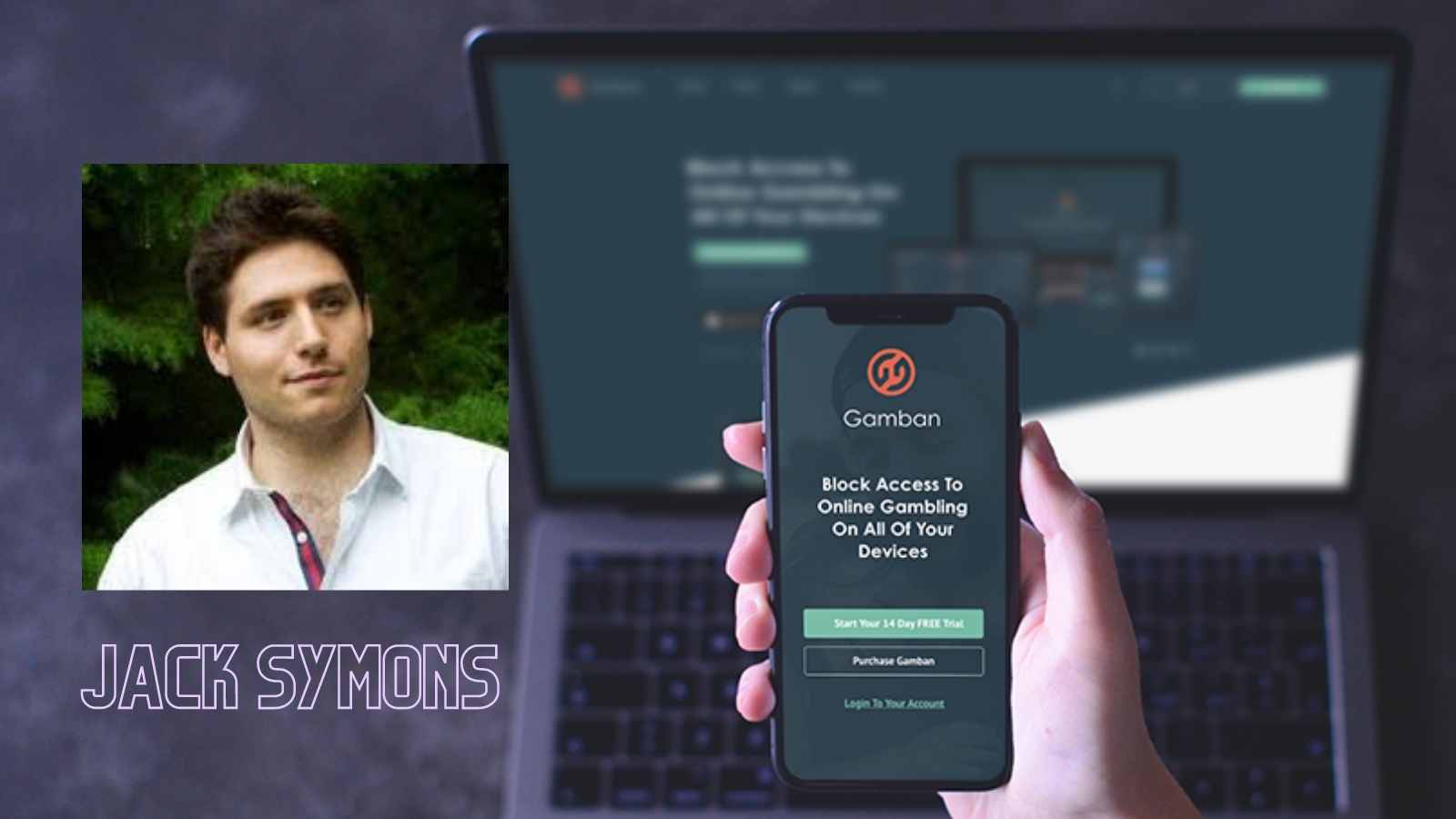 Beating an addiction isn't easy. For Jack Symons, gambling was his vice. Overcoming his addiction led to him founding his business, Gamban, a technology that blocks access to any online gambling across all of a customer's devices. 
Now, Gamban works with the likes of Lloyds Banking Group, as well as huge players in the gambling industry – including Flutter – to help people regain control and balance, without compromising on the benefits of new technology. How? We spoke to Symons to learn more.
Real Business (RB): Tell me about your background, what you were doing prior to founding Gamban? 
Jack Symons (JS): Before starting Gamban, I was freelancing as a business development consultant for multiple clients. Two of my clients were design agencies, one focused on visual merchandising; the other entirely digital.
I was fortunate enough to be able to follow my entrepreneurial curiosity while also bringing in enough money to make ends meet. A previous video networking startup I co-founded called 85by55 was progressing well but the set-backs proved too much. Following rejection at Y Combinator interview, our startup was acquired and subsequently transformed into a video recruitment tool called PowerMeeter.
After living in Norway for over a year I moved back to the UK south coast, while continuing to work for a Norwegian client. One cold evening in 2014, a log fire warmed my family home – a thatched cottage by the sea. This quickly turned into a blazing fire and everything went up in flames. I ended up moving a little further along the coast. 
Read more: Impact of the COVID-19 lockdown on online gambling
RB: How serious was your gambling activity? 
JS: I gambled online since I was quite young – really since online poker was available to UK players. At university, not a day went by where I didn't play online and on many occasions I was playing up to fourteen hours a day. Online gambling is generally much easier to hide than other forms of 'offline' gambling, so I was able to keep it hidden.
After the house-fire, while in our rented 'half-way house' I was gambling online one night and hit a jackpot. In order to withdraw the money and satisfy the bonus requirements, I had to continue wagering a significant amount of money. That night, I was playing single hands of blackjack and video poker at over £5000 a hand – in some cases a lot more.  Eventually, I was able to withdraw the funds and had more money in my bank account than I had ever had before.
Over time I found myself playing less poker but more casino games and slots. It was the slots that became the problem for me.
Once you get a taste for the swings – the high highs and the low lows – it's hard to go back.
Smaller bets just didn't offer the same rush. And poker took too long to deliver the hit. What I was doing was very quickly becoming unaffordable and before long I had lost the money I had saved. We often hear about 'chasing the loss' – I was chasing the win. On several occasions I won smaller amounts that I just couldn't bring myself to withdraw because it wasn't a jackpot.
I had become a 'jackpot gambler' – I was only interested in hitting a jackpot, as unlikely as that may be.
RB: How did you develop Gamban and when was it launched? What were the startup costs?
JS: I tried to stop so often but every time I would find myself playing again. I always had an overdraft but that was the limit of my debts. If I had anything above zero, I would gamble it. 
I needed something to stand between me and gambling because my willpower clearly wasn't enough. At this point I was quite prepared to downgrade my phone if necessary but I still needed my computer.
The first thing I did was install 'parental control software'. Once this was on my computer I felt an overwhelming sense of accomplishment – I couldn't gamble even if I wanted to. The drawback here was that I needed to give my father the password or I could simply override it.
For the first few weeks this arrangement worked quite well but then the software became quite easy for me to disable and also blocked me from sites that weren't gambling-related, which was frustrating. I tried every other available parental control software.
I then found specific software I could install to block myself from gambling. The first problem is nothing would work on my MacOS computer. I was told to get a Windows computer but I didn't want to change this as I owned a lot of software on MacOS which I wouldn't be able to use on Windows.
I did install one of these programs on a spare computer but I found it made the computer unusable and blocked anything remotely to do with gambling, so 'chips' like you'd find in a restaurant would flag as casino currency and therefore the computer would freeze up and shut down. Nothing was available on any of the mobile operating systems.
One evening my father and I we were talking about gambling and I brought up the idea of light-touch, cross-platform software that blocked access to nothing but gambling. He encouraged me and said he thought it was a good idea.
As I was still gambling, I needed this – so I got to work immediately.

Here's how Gamban works
I had been learning some basic programming and I figured I knew how I would go about building a prototype for MacOS. The hard part was creating and populating a database of gambling sites and apps. Within two days I had 16,000 gambling domains on a spreadsheet.
At this point I knew I'd need support on some of the other operating systems and found an overseas agency to support the development. The agency founder, Mavia Siddiqui, his team and I spent just over a year developing the products for different operating systems. 
With development underway, Matt Zarb-Cousin and I connected online while he was working on the Campaign for Fairer Gambling (fighting to reduce the stakes on the FOBTs from £100 a spin to £2).
The total costs up to this point were about £20,000. It was clear there was early interest from industry to financially support this project but we felt it wasn't the right time to be partnering.
Mavia, Matt and I were itching to release the software and launched in 2016 with Mac, Windows and Android, offering the software free of charge for the next two years while we navigated the best route to sustainability. 
Matt introduced inventor of 3-Card Poker, philanthropist and partner in the Campaign for Fairer Gambling, Derek Webb. Derek would go on to financially support the development of the product and the company over the following years. 
Over time, the products have improved dramatically – there's a lot of moving parts to gambling-blocking software but it's worth the investment for the positive impact the tools have on quality of life.
RB: How does Gamban work and how effective is it?
JS: Gamban can be installed on Windows, MacOS, iOS and Android devices and blocks people from accessing gambling sites and apps. 
Once installed, it's designed to be difficult to remove – that's not to say impossible but we try to find the right balance between intrusion and protection. 
According to a 2018 survey, 88% of respondents said that they would recommend Gamban as part of their recovery process. In a separate 2020 survey, 83% of respondents stated that they found Gamban more effective in combination with other methods than separately.
We always recommend using other barriers in addition to gambling-blocking software. The friction these barriers offer give the individual a chance to think between urge and action. During this time, they can ride out their urge or think again before acting on temptation.
In a world where it is increasingly tempting to facilitate immediate gratification through digital activity, we want people to be able to regain control and balance, without compromising on the benefits of new technology; using Gamban they can do that.

This video shows the impact of this app on one of their users, Danny.
Gamban won a four-year contract to provide gambling-blocking software in Norway through the monopoly operator (Norsk Tipping). The Norwegian gambling regulator estimates 250,000 customers play on offshore black-market sites, with an annual spend of €200.
Aside from willpower, the only way to achieve an effective exclusion from regulated and black-market gambling sites is by taking back control and blocking access across your devices.
I'm also really pleased I can continue to work with the Norwegians!
RB: How difficult was it to get large organisations like Lloyds Banking Group and gambling industry operators on board? 
JS: Overall, it's been very difficult. The Lloyds Banking Group was a relatively recent partnership for Gamban. Since the challenger banks, Monzo and Starling demonstrated the impact of gambling harm prevention, the high-street banks stepped up quite quickly. Gamban has been recognised as a useful layer of protection to what banks offer as many offshore gambling companies use incorrect merchant codes that allow these vulnerable players to gamble.
Working with the gambling industry operators has been complex. As there is no regulatory pressure for gambling operators to offer gambling-blocking software, partnerships are based entirely on the changing attitudes of the gambling operators and how our products can protect their players and the sustainability of their companies and wider industry.
Over the last three years, Gamban has been offered by some of the largest gambling operator groups in the gambling sector, including Entain, Flutter, Gamesys and Playtech.
RB: Do you have any other high profile partnerships on the horizon you can mention?
JS: Our biggest partnership to date is with GamCare, the leading national provider of free information, advice and support for anyone affected by problem gambling. Funded by the UK Gambling Commission, this partnership brings the National Online Self Exclusion Scheme (GAMSTOP) and gambling-blocking software Gamban together through the National Gambling Helpline. By combining these layers of protection, there is more friction in place to reduce the chance that someone will gamble when they feel the urge.
RB: Can you share some financials, number of employees, approximate annual turnover and any external investment?
JS: There are currently 15 people on the team. Even before the pandemic, we've been used to working remotely, with some of our team in Greece, Latvia, Poland, Pakistan and UK. 
To date, we've brought in £1.8m in angel investment. In 2018, our investor, Derek Webb, generously relinquished his equity stake.
We achieved a modest turnover of £18,000 (2017), rising to £287,000 (2018), £416,000 (2019), ~£2.6m (2020) and next year we anticipate ~£5m.
RB: What are your future plans for Gamban?
JS: We look forward to building on the brand by expanding into new markets across the world, working with major players in the industry, banks and governments to help people get their gambling activity under control. It's our mission to build gambling-blocking software that is as good as it can be for end-users, making a positive difference to people's lives.
Share this story